Artists
Twin Peaks
Don't bother asking Chicago psyche-rockers Twin Peaks about the deeper meaning of their band name. They simply thought it sounded cool, which explains why their second album Wild Onion (their Communion debut) isn't as spooky or surreal as David Lynch's cult TV show. It's more like a modern day Nuggets, with Ty Segall, Black Lips and Thee Oh Sees curating instead of Lenny Kaye. Not literally, of course. But the spirit of those garage demigods is alive and well alongside subtle nods to everything from Pixies and Tame Impala to the godfathers of guitar-guided pop music, The Beatles, The Rolling Stones and The Beach Boys. The NME call Wild Onion 'unmissable'.
Tennis
Tennis are an indie-pop duo from Denver, Colorado. Made up of husband and wife duo Alaina Moore and Patrick Riley. Why the name Tennis you ask? The name spans from a joke about Patrick Riley's tennis playing, take from that what you will! After two albums with Fat Possum Records we happily welcome Tennis into the Communion ranks.
An obvious source of talent, American Songwriter named Alaina and Patrick their writers of the week in April 2012. Tennis subsequently released the Small Sounds EP to much critical acclaim from the online community and followed this up with their third album 'Ritual in Repeat', produced by Patrick Carney (The Black Keys), Jim Eno (Spoon), and Richard Swift (The Shins). The album is out now in the US and will be released in early 2015 throughout Europe. Tennis are serving up ace after ace and we are very excited to have them onboard!
Rubblebucket
'Kalmia Traver's voice is an incredibly dynamic instrument — a joyous lightning rod that immediately charms anyone in its path', says the influential Paste magazine. We are delighted to have added American indie-dance collective Rubblebucket to the Communion roster. Their intense touring schedule has seen the Rubblebucket party spread throughout the US and Europe since the turn of the year and genre-hopping new album 'Survival Sounds' appears to be shifting the New York band out of the indie-blog bubble and into the big time, thanks to coalescing bright hooks, Kal's stunning vocal and super producer John Congleton (St Vincent) pulling the strings. Survival Sounds is out now in the US and will be released in 2015 throughout Europe and beyond.
Catfish and the Bottlemen
Catfish and the Bottlemen are a four piece rock n' roll band with a fascinating back story and a fearsome live reputation. They formed in Llandudno in North Wales and if you haven't heard them yet it's just a short matter of time until you do.
After playing hundreds of gigs up and down the country, perfecting their quite brilliant live show and building their ever increasing army of fans, the band signed with Communion/Island and released their long awaited debut album The Balcony on 15th September 2014. The album features the 5 singles Pacifier, Cocoon, Homesick, Kathleen and Fallout, all previous Hottest Records in the World on Zane Lowe's Radio 1 show. The band are currently on a sold out headline tour of the UK and have just announced their biggest tour to date for Spring 2015 which includes a stop off at London's famous Shepherd's Bush Empire. Van McCann (vocals, guitar), Jonny Bond (lead guitar), Benji Blakeway (bass) and Bob Hall (drums), the big time awaits.
www.catfishandthebottlemen.com
Bear's Den
Bear's Den are London trio Andrew Davie, Joey Haynes, and Kevin Jones. The boys go way back with Communion, you might remember them from our showcases at The Great Escape and South by Southwest festivals, as well as the now legendary Austin to Boston Tour. After 2 critically acclaimed EPs in 2013 and the single Elysium in July 2014 we are so thrilled to be releasing their debut album in October 2014.
Bad Suns
We're excited to welcome Southern Californian quartet Bad Suns to our roster and to release their debut EP, Transpose. They are already making a splash in the US as an iTunes single of the week and with widespread radio play.
Formed in 2012, Bad Suns are Christo Bowman (vocals), Gavin Bennett (bass), Miles Morris (drums) and Ray Libby (guitar). The four range from 19-22 years old, yet have a sound reminiscent of rock stalwarts from generations past. "I grew up with a lot of world music playing in the house. When I was ten, I started getting heavily interested in the guitar, and my dad began introducing me to his records from the 70′s and the 80′s. Initially Elvis Costello, then to The Clash, The Cure, and so on," notes Christo. "All of these artists and bands had a big impact on me, at a young age, as far as song composition goes."
Bad Suns recorded the TRANSPOSE EP late last year with producer Eric Palmquist (The Mars Volta, Wavves, Trash Talk). The EP serves as a prelude to the band's debut full-length slated for arrival later this year. Influences are apparent on the EP, where angst‐ridden riffs and ethereal yet charismatic vocals pay tribute to these post‐punk legends of the early 80's.
Mikhael Paskalev
Norwegian, of Bulgarian descent, supremely talented, with a way with a tune that has already made him a platinum-selling superstar in his homeland, word of Mikhael Paskalev has already been spreading beyond Norway following standout performances at SXSW and elsewhere. The video for the EP's super-catchy lead track, I Spy, a brilliant Tom-Cruise-in-Risky-Business-homage, caught our attention and has racked up a million views on YouTube already.
Paskalev's songs are recognized by unusual instrumentation and structures and strong melodies. At times they are shamelessly catchy, but they never leave the lovely, raw soundscape in which he chooses to operate.
Mikhael Paskalev released his I Spy EP on Communion Records (via Obscenic Records) on November 18th 2013.
Edward Sharpe and The Magnetic Zeros
We're incredibly excited to welcome Edward Sharpe and The Magnetic Zeros to the Communion family, with their new record "Edward Sharpe And The Magnetic Zeroes" released last summer in partnership with 'Gentlemen Of The Road'.
The first act to be singed to Mumford and Sons' GOTR imprint, the two bands forged an unbreakable bond across many weeks spent on the road (and rail) together. "Edward Sharpe And The Magnetic Zeroes" (their third record) sees the LA collective mixing soulfulness, raw exuberant pop and psychedelia like only they can, showing a band constantly evolving and hopeful for the future.
They are quite simply one the best live bands in the world, and this new record – with its gospel harmonies, raw vocals, and deep-in-the-pocket rhythms – captures that raucous live magic across it's twelve upbeat, boisterous and passionate tracks.
edwardsharpeandthemagneticzeros.com
The Trouble With Templeton
Communion is excited to release "Six Months In A Cast", the fantastic new single from The Trouble With Templeton. The brainchild of Brisbane musician Thomas Calder, TTWT have been making waves down under since the release of their debut, self produced mini album, "Bleeders". With the single already breaking top 10 in Australia's Triple J and AIR Independent Airplay charts, Calder's emotive vocals, coupled with the assertive, driven sound of the band looks set to make The Trouble With Templeton ones to watch for 2013.
Caveman
New York five piece, Caveman are set to release their self titled follow up to 2011's "CoCo Beware" through Communion on August 12th. Fronted by Matthew Iwanusa, the band blend hazy synths and shimmering guitar lines to create ethereal indie pop.
Written in a fairy light drenched loft in New Hampshire and recorded in Brooklyn with a mix of hand built instruments and effects, "Caveman" boasts a more developed and mature sound of a band devoted to detail.
With first single "In The City" already doing the rounds on Zane Lowe (BBC Radio 1), XFM and BBC 6 Music, "Caveman" looks to be the bands definitive introduction to the UK.
Willy Mason
Five years in the making 'Carry On' finds Mason at the peak of his powers and being heralded by fans and critics alike as producing his best work to date. Touring and collaborating in 2012 with a new wave of folk influenced artists like Mumford & Sons and Ben Howard, Mason's inimitable gravel deep vocal delivery and unique rhythmic sound has resonated with a new audience as well as more than satisfying his loyal fan base who have followed Masons' ascent from the progressive sound of his 2004 debut release 'Where The Humans Eat' which included the now classic track 'Oxygen'. Following on from a sold out headline tour of the UK in March, Mason's focus now turns to his homeland.
Half Moon Run
Montreal's Half Moon Run , fuse together restless elements of indie, pop and folk with beautiful rhythmic harmonies, delicate guitar lines and a hint of warm electronica. Communion discovered the band last summer and think their incredible album "Dark Eyes" is one of the best we've ever heard.
The album will be released on Communion / Island on July 1st and you can see them this summer at festivals across the globe including Glastonbury, Latitude, Lollapalooza, Haldern Pop and Reading & Leeds Festivals.
Story Books
Kent based Story Books are part of a long lineage of moody, dark English guitar bands. Self produced at Squarehead Studio in Sittingbourne and mixed by Tony Doogan, the four track 'Too Much A Hunter' EP f(out in April 2013 on Communion Records) follows the success of a limited vinyl release last year. An early demo 'Peregrine' caught the attention of XFM's John Kennedy and Radio 1's Huw Stephens and ended up on Radio 1's Introducing playlist, the track was duly released as a limited 7" single and was followed by sold-out performances at London's Hoxton Hall and The Lexington. The band also supported Story Books admirers Bloc Party at their Koko show last year.
Deap Vally
"We are valley girls. We sing the blues. We play rock'n'roll. We sweat. We move. We groove. We are Deap Vally. xx"
So say Deap Vally, and frankly we are too scared to argue with them. Deap Vally break rock n' roll down to its simplest form – beat, melody and a sack-load of attitude. Oh, and they met at a knitting class. Which is cool.
Live video of Baby I Call Hell: http://vimeo.com/groups/livemusic/videos/41951994
Joe Banfi
We first encountered Joe when he sent in a demo and we liked it so much we went on to include his track "Olive Green" on our New Faces compilation album in 2012. That track inspired such affection – in us, and in the wider world – that last year he recorded his Iron EP with our own Ian Grimble in our studio in North London. Now he's back with his sophomore release Nomads EP, and you can hear just how far he's come.
You can listen to Guts and Bones from the Iron EP here
You can order the Iron EP on CD here
You can buy from iTunes here
www.facebook.com/joebanfimusic
Pale Seas
Southampton's Pale Seas worked with Paul Butler of The Bees, who also produced Michael Kiwanuka, in his Isle of Wight vintage studio haven to make the brilliant double A-Side single Bodies/My Own Mind. These two tracks show off the band at their melodic, dreamy best and we really are super proud to be sending them into the world.
You can listen to Bodies / My Own Mind here
You can order the double A side vinyl here
You can buy from iTunes here
Foy Vance
Communion is very proud to be releasing Foy Vance's gorgeous Melrose EP. This EP is a simply beautiful collaboration between Foy and David Holmes and provided the soundtrack to the 2012 Academy Award winning short film "The Shore" directed by Terry George.
You can listen to "Be the Song" from the Melrose EP here
You can order the limited edition 10″ vinyl here
You can buy from iTunes here (UK) and here (US)
Boy & Bear
Deservedly hugely popular in their native Australia, Boy and Bear's folk tinged Indie is powerful on record and even more so live. They sometimes do more melodically with one song than a lot of bands manage on half an album, and there is a oak-aged timelessness to their CSNY-esque harmonies that belies their (relatively) tender years. Check out their excellent LP 'Moonfire' for indisputable evidence of all the above and more.
Official Website | Facebook | Twitter
Gabriel and the Hounds
When Brooklyn artist and general man about town Gabriel Levine wanted to record the songs that made up 'Kiss Full Of Teeth' (his first album under the moniker, Gabriel and the Hounds) he knew who to call – a variety of performers working directly in or with the likes of The National, Beirut, St Vincent, Sufjan Stevens, tUnE-yArDs, Bjork, and Jonsi all feature throughout the record.
Gabe's day job is in Takka Takka, but you can tell how much he enjoyed spreading his wings here. We fell in love with the album's sheer breadth and imagination. It doesn't sit still for a second, and – for all its very careful, considered crafting – it has a huge sense of playfulness and enjoyably unpolished edges. And the buoyant, brash, punky 'The World Unfolds' might just be our favourite song of 2012.
'Kiss Full of Teeth' 12" vinyl available in our store
Official Website | Facebook | Twitter
Gotye
Now of course inseparable from the quite extraordinary, almost perfect pop song 'Somebody That I Used to Know' (325 million Youtube views and counting), Gotye's 3rd album 'Making Mirrors' has provided rich and varied rewards for those who decided to dig a little deeper. It's incredibly detailed and precise in its design and execution, but also thrillingly un-inhibited by genre or traditional ideas of song structure. Like the its most famous track, 'Making Mirrors' leaps around a musical palette that includes electronica, soul, folk and even world music – and offers a glimpse of the eccentric brilliance of his live shows.
Limited edition 7" vinyl of 'Easy Way Out' available in our store
Official Website | Facebook | Twitter
Daughter
We met Elena Tonra when she was still just Elena Tonra, and were totally captivated by the same things that are now rapidly propelling Daughter towards bigger stages and brighter lights – an extraordinary voice, and an ability to use it to communicate devastatingly personal sentiments in a way that is frail and vulnerable, but pin-point accurate. The textured wall of sound her band-mates create has added muscle and texture to Elena's voice and songs.
'The Wild Youth' EP – recorded with Communion's Ian Grimble in London – will always stand as a beautiful glimpse of what was to come next. You can get it on CD from our store.
Soundcloud | Facebook | Twitter
Michael Kiwanuka
Michael is a longtime veteran of Communion's live shows, and we've always known he was something special. His soulful, yearning tone and immaculate songwriting make him an artist that's impossible to forget, and has earned him The BBC's Sound of 2013 award and a Brit Award Critics Choice nomination.
To Kill A King
To Kill a King are a five piece from Leeds determined to make music that matters. Focusing on frontman Ralph Pelleymounter's unique lyrical narrative, we'd say they've certainly done a good job. We released the band's debut single "Fictional State" back in 2011.
Nathaniel Rateliff
We think Denver's Nathaniel Rateliff is one of the great songwriters and storytellers of his generation. His devastating debut album 'In Memory of Loss' is a masterpiece of sound and silence – with the loaded space around his voice as powerful and telling as that voice itself. We had the privilege – along with our friends at Daytrotter – to record two extraordinary live performances by Nate in London and Illinois, and released those recordings on 10″ vinyl (available in our store).
Official Website | Facebook | Twitter
Treetop Flyers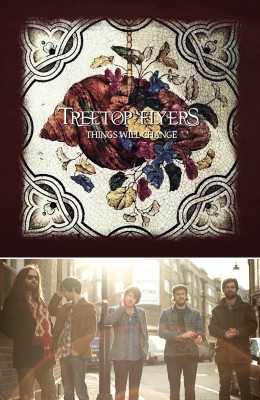 If you were lucky enough to go to Glastonbury 2011, you might remember the Treetop Flyers as the band that opened the festival on the enormous Other Stage after winning the Emerging Talent Competition. Blending Country, Soul and Rock into a unique and timeless sound, the band has been a regular fixture at Communion Club nights, and featured on our Flowerpot Sessions album.
Official Website | Facebook | Twitter
Ben Howard
Conjuring deep emotion and empathy through graceful lyrics and stellar musicianship, Ben Howard has established himself as a powerful songwriter. An early staple at our monthly club nights, we are pleased to offer Ben's Old Pine EP through Communion Records, and continue to promote shows with Ben in London and beyond.</>
Official Website | Facebook | Twitter
Three Blind Wolves
A band of four Glaswegians who draw on influences from Neil Young, Creedence Clearwater Revival and even Led Zeppelin bring you their very own brand of razor sharp country rock. Their critically-acclaimed album Sound of The Storm is available through Communion, and we're happy to have them!
Monument Valley
London-born songwriter Ned Younger first assembled some of the first Monument Valley songs whilst living abroad in Spain. Having spent his whole life writing songs, Ned returned to his hometown with a determination to work his endless pages of lyrics detailing everything from found market photographs to the weeks he spent in a Madrid hospital recovering from a collapsed lung ("No Air") into a fully fledged musical project, titled Monument Valley.
Matt Corby
Matt Corby has certainly carved a unique path for someone that started his career aged 16 on a reality TV talent show in 2007. In 2009, he independently released his debut EP 'Song For…' before relocating to London and signing with renowned UK indie label Communion after capturing the attention of the label's owner; Ben Lovett of Mumford and Sons fame.
Still only in his early 20s, Matt Corby's songs and vocals elicit a sensation that is nothing short of captivating. Having previously been compared to legendary artists such as Nick Drake and Jeff Buckley, Matt's songs continue to deliver a uniqueness and maturity well beyond his years while his live performances have become renowned for bringing large audiences to a complete stand still.
After recording with Ian Grimble (The Libertines, Seasick Steve) and releasing his hauntingly beautiful EP, Transition To Colour in late 2010, Matt has been busy engaging audiences with his live shows. Matt spent the earlier part of 2011playing sold out shows in London and showcasing at SXSW in Austin, Texas inFebruary before coming back to Australia to play a string of intimate "Secret Garden" shows in fans' backyards throughout NSW and Victoria. He soon after joined UK band Elbow as the main support on their national tour of sold outSplendour sideshows in July.
After spending the last few months writing, Matt spent most of September 2011 recording his soon to be released EP, Into The Flame, with producer Tim Carr (Ernest Ellis, Jonathan Boulet).
Into The Flame, showcases a fresh injection of soulful growling vocals and bluesy melodies bound together with his already unique style of melodic folk. Lyrically raw and endearingly honest, his songs take the listener through an introspective and heartfelt journey. The EP also features a duet with Matt's dear friend and keyboardist Bree Tranter, previously of Australian band, The Middle East.
Lead track 'Brother' is now at radio with EP 'Into The Flame' slated for release on November 11 2011.
Matt will be supporting the release of his EP and single with an extensive national Secret Garden Tour throughout October and November followed by EP launch shows at The Oxford Arts Factory in Sydney on November 24th and at The Toff In Town in Melbourne on November 30th.
Marcus Foster
Sounding like a wisened beatnik from an era long since lost, young London born artist Marcus Foster is cut from a very different cloth to the multitude of singer-songwriters, who profess to sing directly from the heart. Musically adventurous, and metaphorically dropped from a rambling Kerouac chapter, Marcus Foster was born dancing to Louis Armstrong, and introduces his music by tipping a respectful hat, to the romanticism of Waits and Van Morrison.
Matthew and The Atlas
Matthew Hegarty (AKA Matthew and the Atlas) was Communion Record's first ever signing, and is woven into our history.
His two EPs – 'To The North' and 'Kingdom of Your Own' – take a dreamy, textured take on Americana and filter it through Matt's extraordinarily bruised and affecting voice. He is a revered – almost cult – figure among his fellow artists and his genuinely global fanbase, while continuing to fly beneath the mainstream radar. The hugely anticipated debut Matthew and the Atlas album – 30 years in the making! – is expected in 2013.
You can buy his 2 Communion EPs in our store
Philadelphia Grand Jury
Forget Haircuts, forget NME, forget your ex-girlfriend – this is Philadelphia Grand Jury
All grit and all heart, MC Bad Genius and Berkfinger's brand of Independent Punk Soul is painfully honest and heavily based in melody. Joined by an array of completey mental drummers over the years, the one thing that will never change is that if you go to see the Philadelphia Grand Jury show, you will definitely come back for another.
In an age where everything is plastic and you have to pay to take the piss, these guys are real and no bullsh*t, and they aren't leaving until you pay attention.
Pete Roe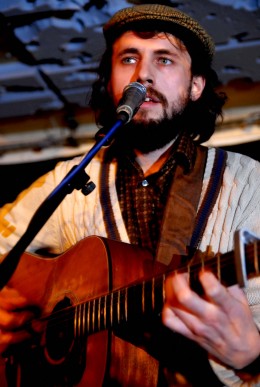 Pete Roe learnt his trade amongst the cobbled paths of Bristol and old jazz musicians. He soon found himself playing piano for Laura Marling after taking off to London in 2008. Having recently toured with Laura Marling as both part of her band and support act, Pete is now stepping into the limelight himself with 'The Merry-Go-Round' released by Communion Records.
'The Merry-Go-Round' – recorded completely live and solo – showcases Pete's tender vocals and storytelling which have seen him compared to Bert Jansch and John Martyn.
Communion Compilation