Eddi Front Announces Debut EP & Live Show Details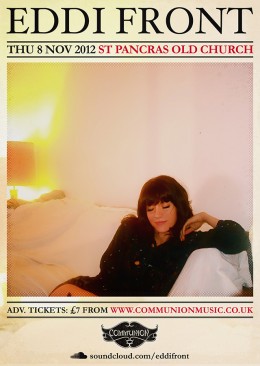 Eddi Front is pleased to announce details of her debut, self-titled EP and a debut London show.
The brooding Brooklyn chanteuse will release the 'Eddi Front' EP through Best Fit Recordings on the 5th November. Recorded at Serious Business Studios in New York, the EP is fronted by tracks 'Gigantic' and 'Texas', which have already both received high blog praise on both sides of the Atlantic. The 4 track release concludes on 'Superhero Style' and a cover of Nick Cave's 'Into My Arms'.
Listen to Gigantic and Texas here: soundcloud.com/eddifront
To coincide with its release, Eddi Front (real name Ivana Carrescia) will headline her debut live show at St Pancras Old Church in London on the 8th November.
Tickets are on sale now for £7 here