Nashville Communion October 2012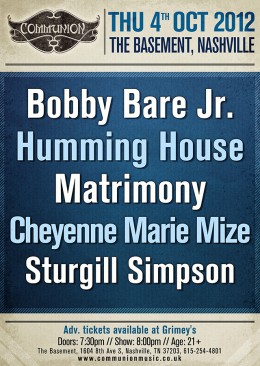 Thursday, 4th October 2012 at The Basement in Nashville, TN
Bobby Bare Jr
www.bobbybarejr.com
BOBBY BARE JR'S QUICK FACTS
- has a degree in psychology from the UNIVERSITY OF TENNESSEE
- made 2 albums for Immortal Records with his band BARE JR. one for sony records in 1998 and one for virgin records in 2001
- releasing a 7 song EP of songs by the bands BREAD and/or AMERICA called "THE AMERICAN BREAD EP" on aug 11th 2009
- born raised and still lives in Nashville, TN
- VERY afraid of elves
Humming House
www.humminghouse.com
At once danceable and reflective, familiar and nostalgic, Humming House is a musical experiment gone right. Woven together from diverse backgrounds (Americana, classical composition, bluegrass, soul, and traditional Irish music), their playground of musical exploration has something for every generation. Unmistakable pop sensibilities mixed with a depth of lyrical narrative give their whimsical songs an irresistible quality that can only be described by the imagery of the name – Humming House.
Fresh from recording their debut album (unreleased) with Grammy-winning producers Vance Powell (The White Stripes, Chris Thile, Buddy Guy) and Mitch Dane (Jars of Clay), Humming House has hit the ground running. A whirlwind of press has followed as the band had been featured on NPR's Live in Studio C and All Things Considered, Nashville's Lightning 100 local spotlight, and STETSON's Center Stage artist of the week.
Matrimony
matrimonyband.bandcamp.com
Matrimony began as a duo in 2009. With Ashlee's Americana-rock influences and Jimmy's Irish-folk roots, Matrimony blends modern anti-folk and indie rock in their debut EP "The Storm & The Eye" produced by Joel khouri of Bright City Studios and self-released to critical acclaim in August, 2010.
Following the release, Matrimony toured across the country and is currently working on their first full length which will be released on Columbia Records later this year.
Cheyenne Marie Mize
cheyennemariemize.com
Mize introduced herself internationally on the 10″ release Among the Gold with Bonnie "Prince" Billy – an inventive take on a variety of late 19th century American parlor music handpicked by Mize and Oldham. She continued her alliance with Ben Sollee and Daniel Martin Moore as a major player in the Dear Companion tour supporting their collaborative Sub Pop release in early 2010. After the release of her debut later that year and subsequent performances at South By Southwest, Mize was chosen by NPR as one of their ten "Discoveries at SXSW 2011."
Sturgill Simpson
facebook.com/sturgillsimpsonmusic
Sturgill Simpson's authenticity stands out like an island of hope in a sea of tacky. Bonafide mountain hillbilly soul, as pure as you are going to find anywhere. All it takes is one listen to FINALLY understand.
Doors: 7.30pm // Show: 8.00pm
Adv. tickets available at Grimey's (1604 8th Ave S, Nashville, TN)